About Chi Noodle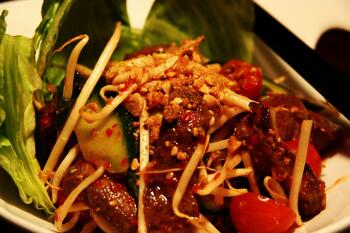 We only use the freshest and healthiest of ingredients delivered daily, prepared with care and attention to create exceptionally delicious and authentic food, served in a relaxed and casual environment at value for money prices. The food is an eclectic mix with the emphasis on freshly made noodle and rice dishes from around south east Asia. There are healthy hot soup noodles served in big bowls with various toppings and a choice of popular rice dishes, curries and stir fried noodles with hawker stall favorites like Kway Teow and Mee Goreng. There are also a selection of "small dishes" for the not so hungry or simply for people that like to share "Dim Sum" style. We also have a choice of Asian salads including the ever popular Thai rare beef salad with pomelo.
As the food is cooked to order, we can where possible alter and adjust the ingredients to your taste or to your dietary requests. As well as the main restaurant there is a fully licensed ground floor bar serving an excellent range of wines, spirits and beers like Tsing Tao and draught Asahi. The bar can be part or fully reserved for private functions.
So whether you are looking for a quick lunch, a more relaxed evening meal or just popping in for a few Happy Hour drinks, we are more than happy to accommodate you.
See you soon!